LA REFORME DE L'ORTHOGRAPHE OFFICIELLE DU SANNGO EN CENTRAFRIQUE
Marcel Diki-Kidiri

Universidad de Antioquia
Palavras-chave:
Tons. Accent grave. Accent plat. Accent aigu. Sahngo. Vitalité linguistique. ACALAN. République Centrafricaine
Resumo
Dans de nombreuses langues d'Afrique, les tons sont très importants dans la discrimination du sens des mots et des phrases. Ils ont donc convenu de noter le ton bas avec un accent grave, le ton moyen avec un accent plat et le ton haut avec un accent aigu. Malheureusement la plupart de ces caractères ne sont pas
immédiatement disponibles sur les machines à écrire et dans les ordinateurs, ce qu'impacte la vitalité linguistique de ces langues. Cet article montre le chemin adopté pour le traitement de diacritiques et des tons dans la langue sahngo et les améliorations introduites dans son orthographe pour qu'elle devienne la nouvelle orthographe officielle du sahngo dans la République Centrafricaine, en concertation avec l'Académie Africaine de Langues (ACALAN) et l'Union Africaine.
Downloads
Não há dados estatísticos.
Referências
CARAVOLAS, M. Common patterns of prediction of literacy development in different alphabetic orthographies. Psychological Science, n. 23 (6), p. 678-686, 2013.

DIKI-KIDIRI, Marcel. Le Sango s'écrit aussi... Esquisse linguistique du Sango: Langue Nationa le de L'Empire Centrafricain: 24. SELAF/Peeters, Paris, 1977.

DIKI-KIDIRI, Marcel. Kua tî Ködörö – Le devoir national, introduction à l'insruction civique. SELAF Applications et Transferts, n. 1, lêmbetti 132, 1982.

DIKI-KIDIRI, Marcel. Dictionnaire orthographique du Sängö. BBA. Distribué par Karthala, Paris, 1998.

DIKI-KIDIRI, Marcel. Guide de l'orthographe officielle du Sängö. (Document de travail), 2017. https://www.ysbsango.org.Número Especial – IV SIMC, Março de 2022, p. 14-19

FAYOL, Michel; JAFFRE, Jean-Pierre. L'orthographe: des systèmes aux usages. Pratiques [En ligne], 169-170 | 2016. http://journals.openedition.org/pratiques/2984
mis en ligne le 30 Juin 2016, consulté le 11 Octobre 2019.

GALTIER, Gérard. Les langues africaines, l'échec du passage à l'écrit, 2012. https://www.combats-magazine.org/fr/les-langues-africaines-loral-et-lecrit/#respond. Site
consulté le 11 Octobre 2019, à 9 h.

HOUIS, Maurice. Comment écrire les langues africaines? In Présence Africaine, Nouvelle, série n. 17, Le sous équipement et les leçons du Caire (décembre 1057- janvier
1958) pp. 76-92, 1958.

JAFFRE, J.-P. Orthography: Overview. In: FRAWLEY, W.J. (Ed.). Writing and Written language. The International Encyclopedia of Linguistics, v. 4. Oxford, Oxford
University Press, pp. 386-390, 2003.

JAFFRE, J.-P.; REUTER, Y. (Éds). Orthographe(s). Pratiques 46, 1985.

MEINHOF, Carl; JONES, Daniel. Principles of Practical Orthography for African Languages. In: Africa: Journal of the International African Institute, v. 1, n. 2, pp.
228-239, Cambridge University Press pour le compte de l'IAI, 1928.

SEBBA, M. Spelling and Society. Cambridge, Cambridge University Press, 2007.

SEBBA, M. Sociolinguistic approaches to writing systems research. In: Writing Systems Research, 1, 1, p. 35-49, 2009.

TEMPLETON, S.; BEAR, D. (Eds.) Development of orthographic knowledge and the foundations of literacy. Hillsdale: LEA, 1992.

WESTERMANN, D.; WARD, Ida C. Practical Alphabets and Phonetic Orthography. In: Practical Phonetics for Students of African Languages. IAI, Routledge, London, 1933;
2015. https://doi.org/10.4324/9781315683478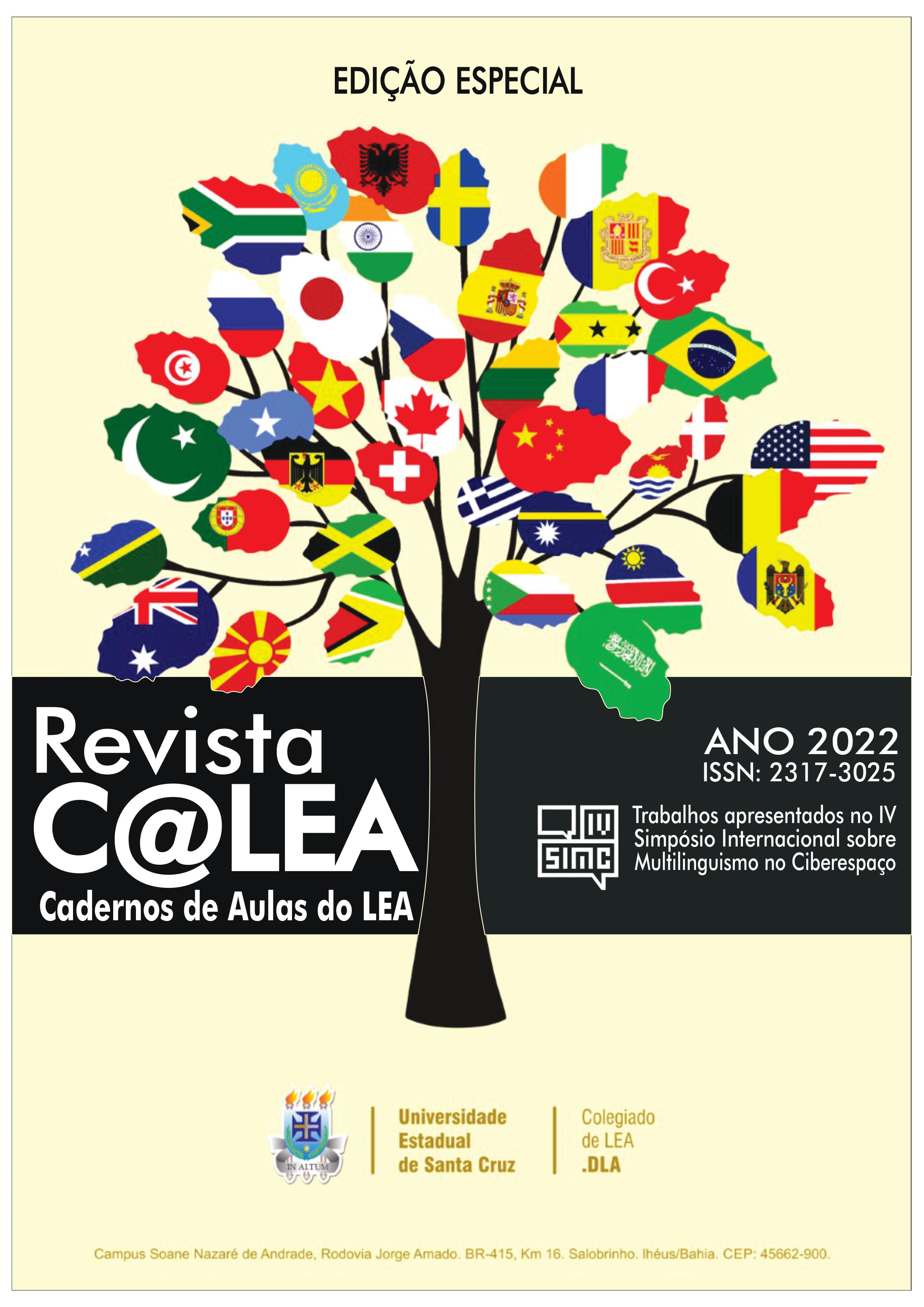 Copyright (c) 2022 C@LEA - Cadernos de Aulas do LEA
This work is licensed under a
Creative Commons Attribution-NonCommercial-NoDerivatives 4.0 International License
.