INDICADORES DE LA PRESENCIA DE LAS LENGUAS EN LA INTERNET
Palavras-chave:
Línguas. Internet. Indicadores. Enviesamentos.
Resumo
São necessários indicadores de espaço linguístico na Internet para apoiar políticas públicas apropriadas. As fontes actuais são escassas e muito tendenciosas. Este método permite calcular indicadores para as 140 línguas com mais de 5 milhões de falantes de L1. Baseia-se na compilação de um grande conjunto de microindicadores que medem línguas ou países em vários espaços ou aplicações da Internet. São aplicados métodos estatísticos para produzir 6 indicadores: utilizadores da Internet, tráfego, utilização, conteúdo, índices sociais e interfaces, dos quais derivam 4 macro-indicadores: potência, capacidade, gradiente e produtividade do conteúdo. Apresentam-se alguns resultados e analisam-se os preconceitos dos métodos existentes.
Referências
Ethnologue. Languages of the World. Disponible en https://www.ethnologue.com, 2019.

Internet World StatsInternet world users per language, top 10 languages. Disponible en https://www.internetworldstats.com/stats7.htm, 2019.

ITU. Percentage of individuals using the Internet per country. Disponible en https://www.itu.int/en/ITU-D/Statistics/Documents/statistics/2019/Individuals_Internet_2000-
2018_Jun2019.xls, 2019

Mikami Y., et al. The Language Observatory Project (LOP). En Poster Proceedings of the Fourteenth International World Wide Web Conference, pp. 990-991, Japan, May 2005.
OIF, Le français dans l'Internet, Rapport 2014 "La langue française dans le monde", pp. 501-541, Nathan. Disponible en http://francophonie.org/Rapports-Publications.html, 2014.

Pimienta D., An alternative approach to produce indicators of languages in the Internet in Proc. of Global Expert Meeting Multilingualism in Cyberspace for Inclusive Sustainable Development, Khanty-Mansiysk, Russian Federation. Disponible en http://funredes.org/lc2017/Alernative%20Languages%20Internet.docx
http://funredes.org/lc2017/Alternativa%20Lengua%20Internet.docx (en español), June, 2017.

Pimienta D., Prado D. Medición de la presencia de la lengua española en la Internet: métodos +y resultados, en Revista Española de Documentación Científica 39(3), julio-septiembre 2016, e141- ISSN-L:0210-0614. Disponible en http://dx.doi.org/10.3989/redc.2016.3.1328, 2016.

Pimienta, D., Prado D. et al, (2009), Twelve years of measuring linguistic diversity in the Internet: balance and perspectives, in UNESCO Publications for the World Summit on the Information Society, CI.2009/WS/1. Disponible en http://unesdoc.unesco.org/images/0018/001870/187016e.pdf, 2012.

W3Techs. Usage of content languages for websites. Disponible en https://w3techs.com/technologies/overview/content_language/all, 2019.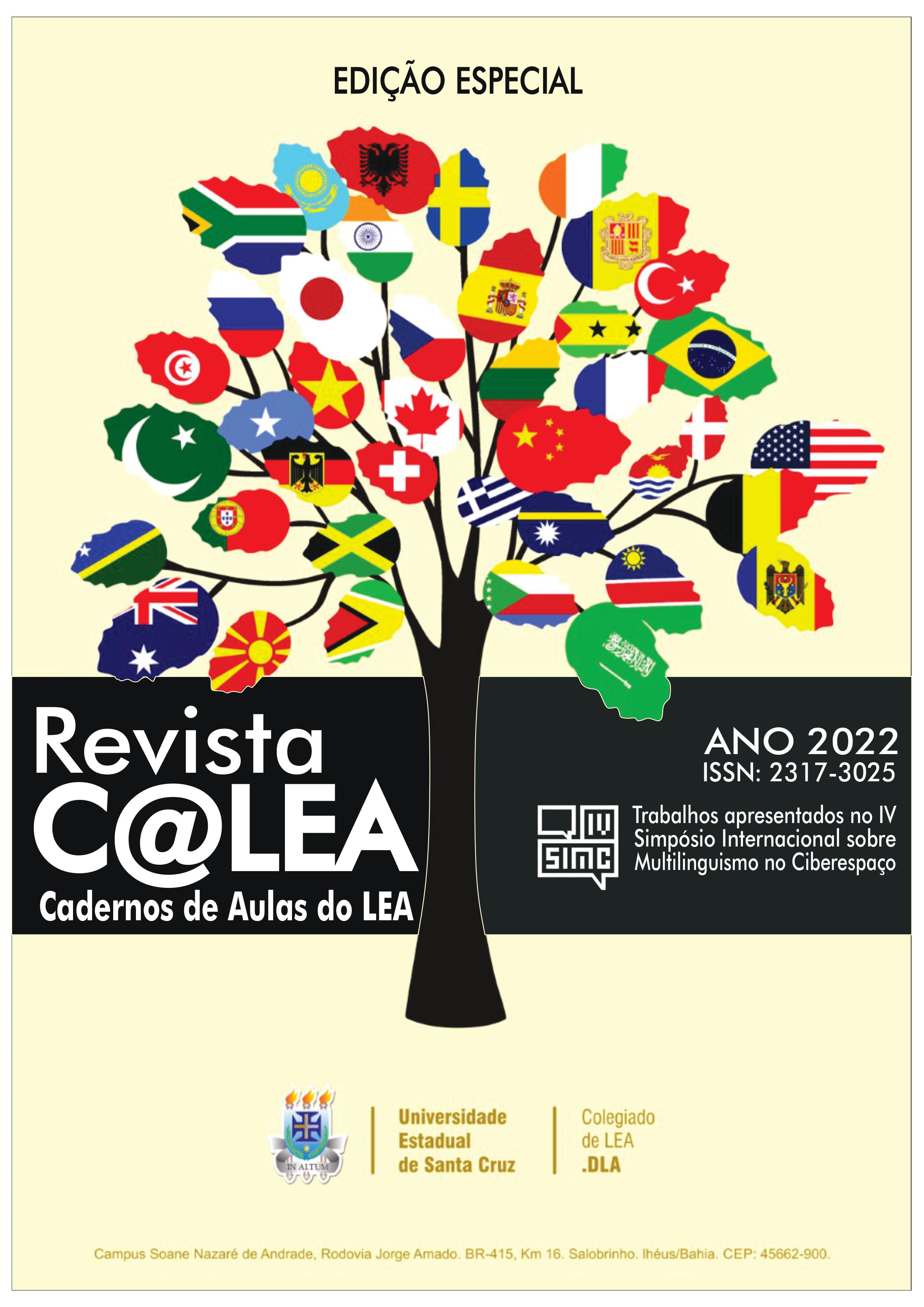 Copyright (c) 2022 C@LEA - Cadernos de Aulas do LEA
This work is licensed under a
Creative Commons Attribution-NonCommercial-NoDerivatives 4.0 International License
.